DJ SHADOW and CUT CHEMIST's FREEZE on video!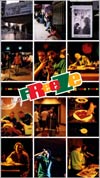 El Rey Theater à Los Angeles, 18 Janvier 2000, DJ Shadow et Cut Chemist se livrent à un exercice de mix à quatre platines et des tappées de 45tours, baptisé "Brainfreeze".
Labelisé "the non-stop live mix of strictly 45's and exercise in vinyl destruction", la performance est un sommet de cuts'n'scratches'n'breaks muy funky, indispensable.
Au delà du monument de mix et de turntablism, le show revêt une véritable dimension visuelle, tant son exécution est physique, gesticulatoire et organique.
Pour ceux qui n'étaient pas au El Rey Theater ce soir béni, RE: GENERATION: TV publie "Freeze" la vidéo officielle de l'événement, including des bonus, des répétitions, etc
De leur coté, DJ Shadow et Cut Chemist se préparent à un deuxième round de mix selon la même formule, ça s'appellera "Product Placement".
Achetez la cassette par là:
http://regenerationtv.net/19_freeze/index_frame.html
Découvrez un court extrait de la vidéo ici:
DJ Shadow + Cut Chemist in SDEP!
http://soitdit.multimania.com/smil/freeze_on_sdep.ram
Si êtes en train de vous demandez "mais c'est qui ces deux types? et pourquoi la rédaction de SDEP panique en parlant d'eux?", sachez que DJ Shadow et Cut Chemist figurent parmis les plus importants DJ/Producteurs issus de la culture Hip-Hop, certainement ceux qui ont donné ses pleines lettres de noblesse à l'art du turntablism et donné naissance à genre musical nouveau, l'Abstract Hip-Hop.
Bio Cut Chemist
http://allmusic.com/cg/amg.dll?p=amg&sql=1CUT|CHEMIST
Bio DJ Shadow
http://allmusic.com/cg/amg.dll?p=amg&sql=Bbz8o1vk8zzza

---
Pour ceux qui sont à Toulouse, en ce Week-End prolongé et qui comptent clubber, danser et faire les fous, SDEP n'aura qu'une recommandation,
L'Indépendant, 6 rue Jouxt Aigues, vous offre deux soirées de choix:
Mercredi 31 octobre 2001:
PMU5 (Pop Music United), featuring:
- Desireless or alive (indie pop warm up )
- Bouton droit VS bouton gauche (80's zombie beatz, Stock Aiken & watermann style)
- Interim'R (pop, popwer-pop, electro-pop + quelques merdes de son cru)
http://p.m.u.free.fr

Samedi 3 Novembre 2001:
Inauguration du bar, featuring:
- DAVID MONNEHAY, vernissage photos
- SWEET APPLE PIE, unplugged overdriven powerpop
http://sweetapplepie.free.fr
- Les DJs de la maison: Samish, Bouton droit, Duke, Interim'R...
Be there or be square!