Imaginary songs,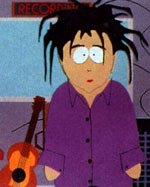 R. Smith à la South Park
Le label Mudah Peach (Valence, France) prépare activement la sortie de sa compilation Curiste, sobrement intitulée "Imaginary songs", prévue pour fin mars 2001.
Le disque regroupera des titres de CURE repris par The Little Rabbits, M, Dominic Sonic, Mickey 3d, Dionysos, Yell, (tulip), Curtis Newton, Tara King th, M, Polagirl, LT.NO, Apple Jelly...
Pour célébrer dignement l'événement le label organise les 29, 30 et 31 mars 2001 une "Cure Friends Party" à Valence.
Arnaud Rebotini (Zend Avesta) en set DJ le 29, Calc et elm le 30, The Little Rabbits, Drugstore, Migala et Polagirl le 31... plus des expos, des projections...
Préparez la bombe de laque à cheveux !!!
Si le festival "Cure Friends Party" obtient le succès attendu par Mudah Peach, celui-ci devrait faire le tour de la France.
Le site du label, la page du projet:
http://mudahpeach.free.fr/tribute_to_cure.htm
Site Officiel:
http://www.thecure.com/
The Conservatory (cyber-communauté de fans)
http://www.the-cure.net/
A Torturous Concept (site riche riche riche):
http://www.thecure.net/
A Chain of Flowers:
http://ourworld.compuserve.com/homepages/ChainofFlowers/