<Attention, cette version française est une traduction BabelFish non-corrigée ! - version originale>
Bonjour, désolé d'envahir votre intimité mais moi supposez qui vaut la peine la lecture.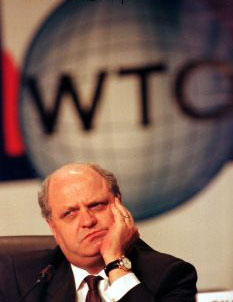 Je suis monté dans un bus de Greyhound à Pittsburgh à 3:00am, le matin après Thanksgiving, et 2 parcourus et une moitié de jours à Seattle pour joindre les protestations contre l'organisation de commerce mondial (plus loin dans le texte: WTO. Traduisez OMC par). Je suis arrivé pour voir des dizaines de milliers d'activistes de l'éventail de causes que j'ai jamais vues dans un endroit, uni autour d'un souci commun -- leur désir pour avoir une parole dans les décisions qui affectent leurs vies, autrement connues sous le nom de démocratie. Je n'entrerai pas dans le WTO dans le grand détail. L'information est dehors là. Vous pouvez trouver pour vous-même qu'en 4 dernières années le WTO a été en existence qu'il a régné contre chaque evironmental et le règlement de santé humaine et de saftey qui est venu avant lui et, par la puissance économique, a contraint des pays abroger ces " barrières au libre échange. " De telles barrières dans ce pays ont été les sections de la Loi propre d'air et les espèces en danger agissent.
Mais je n'entrerai pas dans celui plus loin, au lieu de cela je veux partager avec vous ce qui est arrivé à Seattle, à moi et aux milliers de d'autres, hier. Mes amis et moi avons réveillé mardi matin en retard. Un des plus grandes protestations du siècle, et nous dorment dedans. Nous avons joint les protestations à environ 9:00am, et avons joint une chaîne humaine des personnes bloquant une entrée au centre de convention où le premier jour du sommet de WTO devait avoir lieu. C'était la scène à chaque rue que cela a menée au centre de convention. Le plan était de ne pas laisser des délégués écrire et arrêter la réunion. Ceci peut sembler énergique, mais le but était d'envoyer un message que beaucoup ont exprimé en tant que " aucun globalization sans représentation. " Les séances de WTO sont levées au public et le WTO n'est pas subordinant à aucun gouvernement national ou, d'une manière primordiale, et à corps démocratique. Pourtant il s'est montré pour avoir plus d'une parole dans les choses aussi fondamentales comme le font la qualité d'air nous souffle que nous nous-mêmes. À moi et à presque 50.000 autres, ceci a justifié l'action directe sérieuse. Cependant, aussi sérieux que ces démonstrations étaient, elles devaient être TOUT non-violentes. Après avoir fait partie de notre propre barrière au libre échange et avoir tourné en arrière le forabout de délégués de WTO par heure, nous avons entendu que les protestataires ont eu besoin d'aide à une autre intersection quelques blocs loin. Puisqu'il y avait plus qu'assez de personnes pour maintenir la barrière où nous étions, nous à gauche le blocus et dirigé pour le coin du 8ème et Seneca. Quand nous sommes arrivés, nous avons vu un bon nombre de programmes de démonstration mais d'aucuns appareils-photo principaux de medias.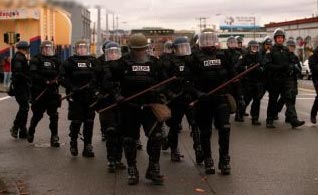 Il y avait un plus petit groupe de personnes s'asseyant vers le bas sur la rue (qui avait été déjà fermée) avec la police dans la vitesse d'émeute se tenant derrière elles. Au lieu d'ordinaire des clubs billy, toute la police de Seattle tenait les clubs de chêne de 3 pieds qui regardent plus comme des battes de basball que des batons. Quand elle a commencé à mettre sur leurs masques de gaz il est devenu évident qu'elles projetaient utiliser le jet de poivre sur les personnes s'asseyant. Le reste de la foule parlait en faveur avec la police pour ne pas utiliser cette tactique cruelle. Il était possible que si plus de personnes s'asseyaient, elles maintiennent l'ordre ne la pulvériseraient pas, ainsi j'ai joint ce groupe. Quand il est devenu évident qu'elles allaient utiliser le jet de toute façon, nous tous les jambes et bras ensemble et moi verrouillés avons tiré un bandana que mon freind m'avait donné au-dessus de mon visage, couvrant ma bouche et yeux. Les spectateurs ont commencé à hurler, " sont prêts! Ils allant le faire! Soyez prêt! " J'ai entendu que le jet et le peuple ont commencé à crier en douleur. J'étais juste attendant le jet, ainsi j'ai été assez étonné quand j'ai senti un de ces grands clubs débarquer sur le dessus de ma tête. Le type derrière moi a pris la majeure partie de la force du coup, ainsi je n'ai pas été blessé mal. J'ai couvert ma tête de mon bras et ai couvert mes yeux de ma main, car les cris perçants ont continué et elle devenait évidente - quoique je ne pourrais voir rien de sous mon bandana- que les cannettes de fil non seulement pulvérisaient mais battaient le peuple aussi bien. Un officier de police a alors saisi ma main et l'a tirée loin de mon visage et spayed me dans les yeux avec une boîte métallique de jet de poivre. J'ai tenu mes yeux me suis fermé fortement et mon bandana a absorbé le jet, protégeant mes yeux et visage. J'ai respiré un peu de lui dedans et ai commencé à tousser la foule commencée pour se casser vers le haut pendant que la police continuait de battre des personnes. J'ai écarté et me suis levé, tirant le bandana loin de mes yeux pour voir la police battre le quelque peuple qui est resté se reposant. Une femme essayait de se lever et il a maintenu jabbing la dans le côté avec leurs clubs. Le reste de la foule a tiré ces gens à la sûreté et a commencé à se laver les yeux par une solution de bicarbonate de soude et l'eau pour parer les effets du poivre d' aveugle pulvérisent. C'était ma première expérience avec le jet. J'ai obtenu un bit minuscule du jet sur mon front et il a brûlé très gravement, était très douloureux. Je ne puis pas même commencer à imaginer la douleur les personnes senties qui l'a obtenue pulvérisée directement dans leurs yeux. Je pense que j'étais plus chanceux que n'importe qui autrement je s'asseyait avec, après avoir échappé au spary et seul ayant été a matraqué par le passé. J'ai crié aux cannettes de fil pendant un moment, appelées les les porcs de facist entre l'abondance d'autres expletives. Mais quand les choses ont calmé en bas d'un bit, moi-même et d'autres a commencé à parler à la police. Il est soudainement devenu évident que certains d'entre elle ont été visiblement troublés par ce qu'ils avaient juste fait. Les mains d'un officier féminin secouaient pendant qu'elle tenait son club jusqu' à son coffre comme le repos faisait dans la ligne qu'elles avaient formée. Elle a continué à clignoter ses yeux pour éviter de pleurer. Nous avons parlé à d'autres officiers qui ne nous regarderaient pas dans les yeux, mais leurs visages n'ont montré aucun signe du plaisir. Après que j'aie calmé en bas d'un bit et aie obtenu à mes émotions sous le contol assez pour parler, j'ai dit à elles, " vous pensez probablement que nous sommes les fanatiques justes avec rien meilleur de faire, ou peut-être les vagabonds qui sont trop paresseux travailler en ce moment, ou les gosses peut-être corrompus d'université qui ne doivent pas travailler. Vous pouvez penser que nous sommes des idiots qui ont trouvé quelques statistiques par hasard sur le degredation ou les bagnes environnementaux, cela que nous sommes dehors ici aujourd'hui pour être pharisaïques et pour penser que nous sommes meilleurs que tout le monde autrement, mais nous sommes les gens juste comme vous. Et tout le monde qui se tient ici avec moi sait exactement pourquoi ils sont ici aujourd'hui. Nous essayons de rendre le monde meilleur. Et je ne pense pas que un un simple de vous sait même pourquoi vous êtes ici. Lequel est-ce que de vous supporte le WTO? Lequel est-ce que de vous sait même ce qu'il ? Nous savons pourquoi nous sommes ici. Pourquoi l'enfer êtes-vous ici? Je ne pense pas qu'un quelconque de vous sont devenus des officiers de police pour battre les personnes qui ne sont pas une menace à n'importe qui sûreté. Juste qui vous pensez-vous vous protégez-vous? Nous sommes unarmed. Aucun de nous n'a essayé d'attaquer vous ou n'importe qui autrement aujourd'hui. Vous nous avez attaqués. Vous ne vous protégez pas; est-ce que là personne n'est derrière vous que vous vous protégez -- qui vous pensez-vous vous protégez-vous!? Si vous avez une bonne raison de nous battre aujourd'hui, si vous vous sentiez il était exact, qu'est une chose. But if you didn't have any reason and you still beat these people anyway, I want you to ask yourself why you did it. Why you were willing to inflict violence on other people for no reason other than you were told to." I asked them to go home and think about that; what they did to make things better today by beating non-violent protesters; if that's what they became cops to do.
They were all silent, turning they heads constantly to avoid eye contact with any of the protesters speaking. The commanding officer walked down a line in between the police and us, pushing protesters back. He ordered the crowd to disperse, saying that if we didn't leave they would remove us by force. We didn't leave. We just kept talking to the police more. I asked the commanding officer to explain to us why we ought to leave. He didn't acknowledge the question. I asked them all if that's what those clubs meant, that they didn't have to explain their actions to anyone, even themselves. Other protesters reminded them that even though they were trained to be robots, they were still people who were responsible for their own actions -- orders or no orders. I told them my name, where I was from, that I go to college, that I have family and friends. I asked them their names. None answered.
We stayed there and the police didn't charge. Not because I think we convinced them not to, but because there were too many of us. Soon a group of people with their arms chained together inside tubes wrapped in duct tape. 4 of these people were from Athens; 3 OU students and friends of mine. The police were still threatening to charge the crowd. I quickly realized that these people had no way to protect their heads from the police clubs. Being obviously non-violent had already proven to be no defense against police violence. Another OU student and I walked up to the police line to ask them about this. The line was now made up of different police officers. We approached one and asked him about this. He looked at us and said, "Well, if they're worried about getting hurt, they should have thought about that before they came out today." I asked him to show me his badge number. He refused. "Aren't you required to show your identification to the public?" He didn't answer. The officer to his left sneered at me and said, "Well you have all the answers, why don't you tell me?" Before I could, he raised his club and yelled at me to back up. I did and continued talking to him, but he looked away and ignored me. The first officer had no identifying number anywhere on him. No visible badge, no number on his helmet. I took his picture and got others to. Telling everybody that we needed to watch him. When I first spoke to police after they had beaten us, I was very encouraged that some had actually shown some signs of human compassion, but my hopefullness dissappeared after I talked to the latter group of officers and realized that many of them were quite happy to inflict harm on people.
Reinforcements came and as protesters cleared the way for them, one cop pushed a protester, and said "Get the fuck out of my way," with a smile on his face. From time to time ambulances would come through and the crowd would clear a path immediately. Some protesters said, "What if WTO delegates are sneeking in on the ambulances?" But people came to an immediate concensus that, although that was a possiblity, it wasn't worth risking people's safety. Suddenly, a WTO delegate made it unnoticed through our lines. But when he made it to police they refused to let him enter. They turned back another delegate later. As it turned out, we were gaurding an exit not an entrance; that they police's orders were to not let anyone in -- whoever they were. Also, since police had shut down the street and no protesters had attempted to cross police lines, none of us were even doing anything illegal. -- which is probably why none of the people in the sit-down group were arrested. Though none of us were arrested, all of us were beaten and sprayed. Word soon made it to us that the situation was worse elsewhere. We made our way to the heart of downtown and found the streets full of teargas. There was a large group of people sitting down in front of police in full riot gear with their gas masks on. Behind them was an armored tank. The police attacked protesters again. Against non-violent protesters, they used pepper spray, clubs, tear gas, and later fired rubber bullets and marbles at the people. In every single instance I witnessed first hand, police violently attacked non-violent protesters with no provocation whatsoever. That was the case when I was beaten and sprayed, that was the case when downtown was flooded with gas, with helicopters flying overhead shining spotlights down into the crowd. Thousands of police forced protesters out of the dowtown area firing cannister after cannister of tear gas into the crowd. My friends and I were split up in the crowd of people fleeing from the gas. Eventually, I made it back to the house to join them. The whole way to their house, I was hoping that this story would get out. Hoping that the level of violence inflicted on non-violent protesters, peacefully assembled, would wake a lot of people up and show them the level of democracy in this country. Hoping that people would see what the level of force aimed at people who peacefully oppose the interests that are dominant in this country and the world. I returned home to have this hope crushed. The local news stations were reporting on the broken windows of businesses and not the broken bones of protesters. They reported on things like "police fatigue." Which I assume is when your arms get tired after you beat people for hours. They talked -and continue to talk about- the extremely "restraint, openmindedness, and gentleness" displayed by police. A state of civil emergency was declared and a curfew was set for 7pm. If anyone was downtown after that, they would be arrested. Police cleared the curfew zone of people, but we watched them on TV continued to pursue them up Capitol Hill -- blocks past the curfew zone. The police chased them into a business area and fired tear gas into crowds that were now made up of shoppers and people getting dinner as well as protesters. Finally, after 12 hours of people being beaten and gased, a small riot broke out. A Starbucks coffee store was damaged and looted. I'm amazed it took this long to happen, and I say this in all honesty from being here first hand, that, by repeatedly attacking and torturing non-violent protesters, the Seattle police sought to incite a riot and finally succeeded to a small degree. The news kept running the scene of Starbucks being looted again, and again, and again. At least a dozen times in under an hour. There were also quick clips of police beating demostrators shown once and not again. A newscaster on KOMO, channel 4, said, "Look, earlier today we saw protesters carrying signs with clear messages against the WTO, but what you have going on now is an unruly mob just trying to cause problems. In the pictures we're seeing now, I don't see any signs at all. These people don't have any message." What the newscaster failed to notice was that people, myself included, dropped their signs when they were fleeing for their lives. They were dropped because you need two hands to gaurd your eyes from tears gas. Talk of the "police being too lenient" has continued into todays news reports. And the lack of signs continues to be portrayed as a lack of any constuctive purpose among the protesters. One newscaster said, "Come on, get a life. We live in a prosperous country." In all honesty, the news is scaring me more than the riot police, because what it has done is justify further violence against the protesters. They have said that "police have been too lenient." The police have used teargas, pepper spary, clubs, rubber bullets, and marbles against peaceful civilians in downtown Seattle. The only thing they haven't done is used live amunition.
And in the event that greater violence occurs against protesters, the media will have justified it. Besides insulting protesters the local media has focused o
n the diruption to traffic and holiday shopping. The National Guard is now occupying the city, a 50 block "no protest" zone has been established, about 120 people have been arrested, and many have been hospitalized -- though that has recieved no coverage as far as I've seen.
In other news, we succeeded in shutting down the first day of WTO meetings. The situation is still developing, so I encourage everyone to watch the news coverage and contrast it to what I've written here. AND PLEASE, do your own research on the WTO.
Damon Krane