Bien que le groupe aie une actualité toute relative (l'EP "Zero" sorti en novembre 2000, mais introuvable en Europe), il nous a paru important de parler de ce BRIAN JONESTOWN MASSACRE, combo post shoegazer-psychédélique , mené par l'authentique fou mystique Anton A Newcombe (le seul homme incapable de répondre à une interview sans son revolver à la ceinture).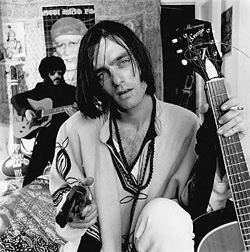 Anton A Newcombe
Nommé ainsi en hommage au légendaire guitariste des Rolling Stones, et à son influence dans l'introduction de la culture et de la musique orientales dans le monde du wock 'n woll, le BRIAN JONESTOWN MASSACRE s'est formé à San Francisco en 1990. Pendant la première moitié de la décennie, une bonne quarantaine de types sont passés dans les rangs du groupe, mais la formation s'est stabilisée autour du chanteur / guitariste Anton Newcombe, accompagné du bassiste Matt Hollywood (sûrement un pseudo), le guitariste Dean Taylor, l'organiste Mara Regal, l'accordéoniste Dawn Thomas, le batteur Brian Glaze, et le porte-parole de la Révolution (?) Joel Gion. En 95, Le BJM a enregistré son premier album, "Methodrone", dans le style shoegazer. En 96, une compilation d'anciens enregistrements, "Spacegirl and other Favorites", est sortie sur Tangible, le propre label du groupe.
C'était le premier de quatre LPs sortis la même année, dont "Their Satanic Majesties' Second Request", en hommage aux excès de la glorieuse époque psyché des Stones. Enregistré live en studio, le plus graveleux "Take It From the Man!" nous a dévoilé un groupe explorant un territoire encore plus large. L'année s'est terminée avec "Thank God for Mental Illness", une démonstration de talents country et blues. En 97, le BJM, alors constitué de Newcombe, Hollywood, Gion, Taylor, des guitaristes Jeff Davies et Peter Hayes, et du batteur Brad Artley a refait surface avec "Give It Back!". Après avoir signé sur TVT, le groupe a sorti "Strung Out in Heaven" l'année d'après. En 99, c'est le EP "Bringing It All Back Home Again" qui est sorti sur le label Which.
1999. Jason Ankeny, All Music Guide
(traduction bénévole de Funky Elvis)
Newcombe est également le père, depuis 1997, d'un label "The Committee to Keep Music Evil", satellite de Bomp! records. "The Committee" n'a publié que quatre disques du BJM dont l'illustre et culisssime "Not if You Were the Last Dandy on Earth" (clin d'oeil direct aux DANDY WARHOLS) ainsi que le récent (novembre 2000) "Zero : Songs From Bravery, Repetition & Noise".
Ce dernier opus du groupe, au plus exactement de Newcombe puisque celui-ci est désormais seul maître à bord, condamné à embaucher des musiciens pour assurer sa récente tournée américaine.
Sur scène, le groupe se traine une réputation catastrophique, entretenue par les bastons générales qui concluent généralement leurs sets. Même leurs copains de longue date les DANDY WARHOLS refusent de tourner à nouveau avec eux.
Official BRIAN JONESTOWN MASSACRE Homepage.
http://www.brianjonestownmassacre.com
BRIAN JONESTOWN MASSACRE (Bomp Records).
http://www.bomp.com/bomp/BJM.html
Sur Which? Records (1 MP3 à prendre !)
http://www.whichsight.com/bjm.htm
InterneTV Music Videos-on-demand:
http://www.internetv.com/re.....acreatlastrm.htm
Sur MTV
http://www.mtv.com/sendme.tin?....b/bjm981130.html
A propos de BRIAN JONES, Newcombe déclare:
"He was the mystic of the group,he dug sitars and stars.
The thing i set out to do with the bjm was make psychedelic music,but not rythem and blues based music, i thought it would be great if i approached the band thing like brian did."
BRIAN JONES Linkos:
Protégez votre piscine des bébés, animaux et rock'n roll stars, avec la barrière LifeSaver ! (possibilité d'achats groupés)
http://www.poolfence.com/product.htm
Le cimetière en-ligne des rock stars, c'est par la (JOHNNY THUNDERS, KEITH MOON,et KURT COBAIN viennent d'y être admis) :
http://www.geocities.com/Sunset....ow/2547/jones.html