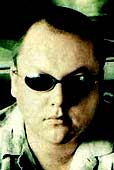 SDEP - FMR : Les Catholics jouent avec vous depuis trois ans...
FB : Peut-Être un peu plus longtemps, j'ai rencontré le batteur et le bassiste il y a quatre ans quand j'avais accepté une offre qui m'avait été faite de courte tournée en France pendant l'hiver, janvier février, je n'avais pas de groupe et il sont venu faire la tournée avec moi et voilà, ils sont restés avec moi pendant à peu près quatre ans ou peut-être plus, je ne sais pas.
Le guitariste qui est avec nous maintenant est nouveau, il nous a rejoint l'année dernière; mais on le connaissait depuis longtemps.
SDEP - FMR : Vous vous souvenez de votre date à Toulouse, il y a cinq ans au Confluent?
FB : A l'extérieur de la ville? Le courant s'était coupé... on jouait avec They might be giants. Le saxophoniste de They might be giants est monté sur scène et a joué pour le public, et personne n'est parti. Ca a duré longtemps, 45 minutes peut-être, ou une heure avant que le courant revienne. Tout le monde a été très patient, c'était un bon public.
SDEP - FMR : Comment avez-vous rencontré GoodNoise, votre label électronique aux USA...
FB : Ils m'ont appelé. C'est tout. Ils ont appelé et ils m'ont dit "est-ce qu'on sortir vos disques sur Internet? ". On a répondu " oK". Ca fait de la pub. C'est pas mon label pour les Etats-Unis, mon label s'appelle SpinArt. Ca, c'est qu'un extra, une sorte de second label. On ne sait pas trop où ça va nous mener... l'Internet évolue très vite, on verra ce qui arrivera.
Reid Paley (première partie de FB pour cette tournée française) est également sur ce label.
SDEP - FMR : Qu'est que vous pensez de la révolution qu'amène Internet sur l'industrie de la musique?
FB : Je pense qu'il y a beaucoup de controverse à propos du MP3 et du piratage. Mais de manière générale je pense que c'est une bonne chose, je ne suis pas très inquiet de perdre de l'argent avec des chose pareille, des gens qui mette des morceaux en ligne... Ce n'est pas un problème.
Mon manager s'occupe de ça, il m'en a encore parlé d'un aujourd'hui...
SDEP - FMR : Ah? Justement, il m'a écrit...
FB : Ah oui? Je pense que sait qui tu es...
Je leur ai dit " Laissez le type garder la chanson sur son site! Quelle importance? Voyons Ken (Ken Goes, manager) c'est fait! "
Ecoute moi, tu peux la remettre en ligne, c'est Ok.
SDEP - FMR : Merci beaucoup !!
FB : Je leur ai dit! On s'en fiche! Une chanson... quelle importance.
SDEP - FMR : Quelles sont vos relations actuelles avec les anciens membres des Pixies?
FB : On s'est séparé il y a 6 ou 7 ans. Il n'y plus beaucoup de relations…
SDEP - FMR : Vous avez tout de même continué à travaillé avec Joey Santiago.
FB : Nous sommes resté bon amis, nous l'étions déjà avant. On a conservé une forte amitié depuis notre jeunesse, depuis nos 18 ans. On habite pas loin, on est resté proches. Mais on ne joue plus très souvent ensembles. Ce n'est plus l'histoire de deux types qui jouent ensemble, c'est celle de deux types qui… se bourrent la gueule ensemble. (rires)
SDEP - FMR : La pochette de Pistolero rappelle celle Doolittle.
FB : Ce n'est voulu. C'est ma copine qui dessine mes pochettes maintenant. On a un petit business Frank Black à la maison. Je fais des disques et elle fait des Tee-shirts, des pochettes d'albums. A la maison. C'est juste une image qu'elle a acheté à un photographe sur Internet, précisément. Avant elle ne travaillait qu'avec des images entièrement créées par ordinateur, elle voulait avoir quelque chose avec de la vraie lumière. On n'avait pas le budget, l'argent de faire venir une vrai photographe qui aurait pris une jolie photo; c'était donc beaucoup moins cher d'acheter une photo auprès d'une banque d'images sur Internet pour avoir une image en véritable lumière.
Un autre gros avantage d'Internet est qu'on peut obtenir ce qu'on cherche a deux heures du mat'. "Hey! Si on prenais une photo avec des cartouches… " Vous voyez, on paye 100 $ et c'est bouclé, c'est super.
SDEP - FMR : Vous avez produit l'album de Reid Paley, c'est quelque chose que vous aimez faire?
FB : Je n'ai pas beaucoup d'expérience dans ce domaine. Reid Paley, je le connais depuis longtemps, on est amis. Je suis un musicien, je ne suis pas vraiment un producteur. Si on me demande, j'y réfléchirait, mais je suis plus un musicien qu'un producteur.
SDEP - FMR : Qu'est que vous préférez faire? Tourner, jouer, enregistrer…
FB : C'est difficile à dire… hum, je n'ai pas de préférence. C'est pareil.
SDEP - FMR : C'est pareil, parce que vous enregistrez live?
FB : Oui, ces expériences sont devenues de plus en plus similaires, c'est évident à moins d'enregistré un album live dans un club ou d'enregistrer avec un groupe plus important, avec plus d'instruments, un orchestre ou d'autres guitares… un piano, des cuivres ou n'importe mais LIVE, rassembler plein de musiciens dans une grande pièce et jouer dans un vieux style Frank Sinatra… Pas forcément de la musique dans le style de celle de Sinatra, mais la même situation, un grand orchestre live.
SDEP - FMR : Que sont devenus les aliens dans vos deux derniers disques?
FB : Eh bien, ils m'ont demandé de m'arrêter d'attirer tant d'attention sur eux. "Ils" je ne sais pas si c'est les extraterrestres ou le gouvernement, mais je me suis moi-même demandé d'arrêter pour ma propre sécurité.